Why does PRO matter? In the words of Compustar themselves: "Compustar PRO is the premier line of Compustar remote start systems." The PRO line is exclusive to those dealers who have shown a long-term commitment to the highest level of client satisfaction. The PRO series products are not available anywhere else and we offer many Compustar packages!
PRO dealers also enjoy exclusive access to advanced technical services, helping to provide PRO-quality comfort and convenience for years to come. Additionally, Compustar PRO products feature extended three-year remote warranties and, as with every Compustar system, a limited lifetime warranty covers the control module installed in the vehicle. What this means to you is that you get the best equipment installed by the best professionals around with a track record of success to back it up.
Below is a great overview of some of the most popular remote car starter packages we offer. However, we always recommend coming to the store and having one of our product specialists show you all the options available in the Compustar line. Maybe you'd have to drive 80 miles to have your system installed, though, and making two trips (one to choose the system and a second to have it installed) just isn't feasible. Not to worry. We find that many clients prefer to choose their systems once they arrive at our store, since a website can only show so much. We stock all of the systems we offer here. If you prefer, just give us a call to schedule an appointment and you can choose which system best fits your needs when you bring your vehicle in on the day of the appointment. This also works great for gift-giving!
If you're new to remote car starter systems, may we recommend taking the time to learn a little more about them? Here is a useful page to read:  Remote Starter Page  This page has very helpful information that will help you make an informed decision when it comes to a purchasing a remote car starter.
One-Way Remote Car Starters
CS801
Before choosing the CS801, it is important to figure out whether your factory keyless entry system will work while the vehicle is running. Just start your vehicle with your key and try your factory remote. If it doesn't work, you'll want to upgrade to at least a PRO G7. Most Ford, Toyota, Honda and Kia vehicles will be like this and, therefore, should upgrade to a PRO G7 Also, since it's an entry-level system, the CS801S is designed to be used with non-data-controlled vehicles. Please contact a product specialist to determine whether this unit is recommended to be used with your vehicle. Generally speaking, if you have a newer vehicle, we always recommend moving up to a PRO G7.
PRO G7
The PRO G7 replaces the venerable P1wSH and is our most popular one-way system. It's rated for 3,000 feet of range and twice what the P1wSH was rated for. We have tested this system from in front of our store to past US Highway 14, reaching out to a mile in open territory. It is simply far superior to the competition.
Super-reliable and easy to use and featuring the 7200 series controller, this model will be compatible with just about any vehicle on the road today, including push-button vehicles, diesel engines, hybrid vehicles, manual transmission vehicles and just about anything else you can think of. It is also completely upgradeable if you want to add two-way capability in the future, including Drone Mobile smartphone control.
We often get asked how this unit compares to brand X or model Y. The first thing we like to mention is that the system is only half of what you're purchasing. The other half is the safety and security of having the most experienced professionals work on your car, and that's not something any other shop in the area can compare with. With that said, the Pro G7 is an awesome unit and some of the things that really set it apart is the 3,000 feet of range. Some places like to advertise their "half mile" range, but that's a falsehood – that system is only a 2,000 foot-rated model. The Pro G7 has 50% more range and a three-year Pro series remote warranty compared to the other product's one-year remote warranty. The Pro G7 wins every time.
CALL 507-345-8863 TO SCHEDULE AN APPOINTMENT TODAY!
Two-Way Remote Car Starters
PRO 902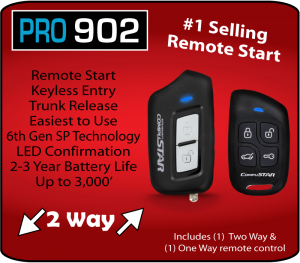 The PRO 902 is the least-expensive two-way remote start and features all the amenities of the Pro G7, with the addition of two-way confirmation. Incredible range, great battery life and a color LED with an audible chirp for confirmation make this an unbeatable value. This remote start might be the easiest to use ever made. We often see two to three years of battery life from the two-way remote, which is incredible, since many other brands go through batteries every month! Since it uses a standard AAA battery, it's super-simple to replace the battery yourself.
The Pro 902 system include a companion one-way remote control. The Pro 902 simply blows away the competition.
We have tested this system from in front of our store to past US Highway 14, reaching out to a mile in open territory. Just like the comparison noted above for the Pro G7, the competition can't come close!
Slice 9402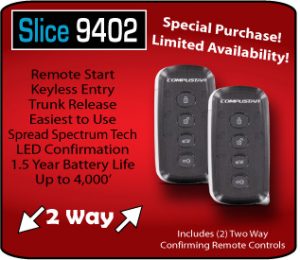 The Slice 9402, aka Slice RF-2w9402-SS, is special purchase for 2017 with limited availability. Now including TWO of the two way confirming remote controls in the package which really sets this unit apart from all other Compustar systems. The remote controls are super thin at only 0.3″ thick and don't eat up valuable real estate in your pocket. Incredible range of 4,000′, great battery life and both audible and visual confirmation make this an unbeatable value.
Again, the highlight of the Slice 9402 is TWO of the two way confirming remote controls in the package.  A $100 increase in value without raising the price.  Very cool indeed.
If you're looking for a super sleek, easy to use remote control, be sure to check out the Slice 9402 and for more details check out the Slice 9402 Product Highlight page for additional information.
PRO T11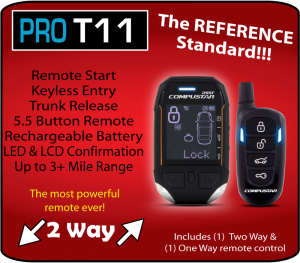 A new flagship model for 2016, the Pro T11 is the ultimate remote car starter. With up to 3 miles of range (actually, we've tested it at a much greater distance), it sets the standard for all others to follow. The Pro T11 is the industry's first IPX7 waterproof remote with an LCD. The buttons and casing are sealed with a rubber trim that prevents water from entering the device at a depth of 1 meter for 30 minutes and the case is impact-resistant, making it the toughest, most powerful remote on the market.
The Pro T11 is equipped with a lithium-ion rechargeable battery and comes with a micro USB charger that can be plugged into any 120v wall outlet or desktop USB input. By the way, the Pro T11 charger input is also waterproof!
Oh, yeah, did we mention the range and power? Before the Pro T11, the longest range a remote starter could achieve was 1 mile. Compustar multiplied that by a factor of 3, using a hybrid frequency technology that resists most common interference from structures and other electronic signals. Our testing has shown the range to be a game changer. Since it is a Pro series unit, you get an unheard-of three-year remote control warranty!
Fall on it, drop it, throw it or dunk it in water. The Pro T11 is built tough. If you want to see a demonstration of the toughness, just stop by the store – you'll get a kick out of what we do with this remote!  Check out the Pro T11 Product Spotlight for additional highlights.
---
We often get the question of, "Which one should I buy?" To answer that question, we need to know how and where you're going to be using the system. At the same time, people often don't have answers to those questions, since the item might be a gift or for any number of reasons. In those cases, the answer is simple: Get the PRO 902! It has excellent range that will be enough for most people; it's very easy to use, which is great for the elderly or for the technically challenged; it has the best warranty; it has two-way confirmation, which everyone appreciates; and it has been super-reliable for us.
On the other hand, there are times when a person will need the power of a Pro T11 and times when a Pro G7 may take care of your needs, so the more information you can give us, the better chance we have of providing the best solution.

---
Smartphone Based Remote Car Starters
DroneMobile is the most powerful SmartPhone system available. It works with Apple iPhones and Android devices. The system includes 30 days of free service; then it runs as low as $3.33 a month for service. GPS tracking, vehicle location and more are available with a premium subscription. Stop in the store for a demonstration or see our article on Drone Mobile Smart Phone Systems for a ton of great information.
CALL 507-345-8863 TO SCHEDULE AN APPOINTMENT TODAY!